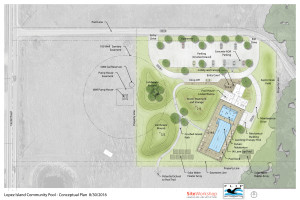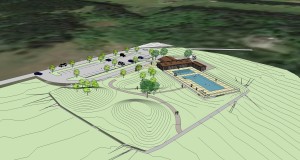 Site Plan:  Drive down "Pool Lane"! 
We are so fortunate to have the landscape architectural firm, Site Workshop of Seattle collaborating with Boundary Water, Inc. of Lopez to create the best site plan for our 2 1/2 acre lot!  Thanks to their expertise everything fits!  With help of the map imagine yourself turning off Center Road onto "Pool Lane".  Click on the map to enlarge.
Yes, Two Pools! 
There will be a warm water therapy/learn to swim pool and a 4 lane 25 yard recreational pool made by Myrtha.  http://myrthapools.com.
Myrtha is the most exclusive and advanced technology in the swimming pool industry.  Its patented pre-engineered modular pool system, featuring laminated stainless steel panels and a buttress system, enables a Myrtha structure to attain perfect waterproofing, as well as strength and sturdiness. Myrtha technology provides the ideal solution to the many limitations of traditional reinforced concrete structures and ordinary prefabricated swimming pools.
Fast installation!  Myrtha pools can be built in a very short time. The components are manufactured according to ISO 9001 standards by automated machines and shipped directly to the building site. This facilitates a timely installation process that does not require the use of heavy equipment and significantly reduces the risk of assembly mistakes on the construction site.
Low Maintenance! Unlike traditional constructions, Myrtha pools do not require a significant maintenance schedule. Sturdy, built to last, and not subject to dimensional variations, a Myrtha structure is not susceptible to cracking or structural deterioration.
Green!  With most Governments recommending the reduction of CO2 emissions, Myrtha Pools commissioned Australian engineering company ACOR Consultant to calculate the energy used in building a Myrtha pool. The Carbon footprint of Myrtha (the quantity of CO2) is significantly lower by 50% compared to a traditional pool made with concrete and tiles: with the energy saved building a 50m pool, Myrtha could provide heat to a 100sqm apartment for at least 45 years!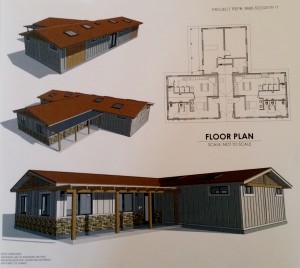 Reception and Locker Room Building
This building includes reception, an office, changing room, women's and men's locker rooms.  It is modular and built off site by Blazer Industries in Oregon.  It is fully constructed in the factory and transported for drop-in installation.
Low maintenance! Walls and floors are concrete, non-permeable, non-staining and odor-free.  Floors are engineered heated slabs which are transported with the building.  Electrical, plumbing and fixtures are all turn key.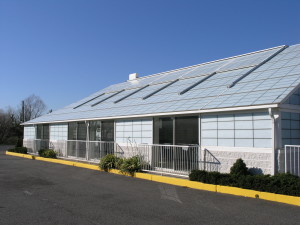 Pool Building
The natatorium building will be built by StructuresUnlimited using Kalwall.  Kalwall is a highly insulating, diffuse light-transmitting, structural sandwich panel. It provides unparalleled light quality and thermal performance at a reasonable cost. 400% more energy efficient than double paned windows!  Beautiful, low-maintenance, self-cleaning, and contains at least 25% post-consumer/pre-consumer recycled content.  https://kalwall.com/technology.