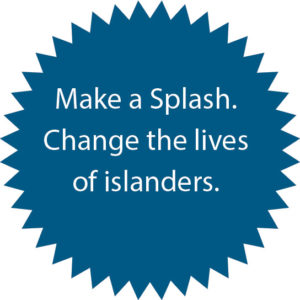 Did you know that only 2 counties in the whole State of Washington do not have a public pool, and that  San Juan County is one of those?
Did you know that 91% of our Lopez elementary students could not pass a Red Cross swim competency test putting them at a significantly higher risk of drowning. The Red Cross considers the national average of competency at 39% to be a crisis.  On Lopez the average is less than 9%.
Lopez has only one public lake and it is too dangerous to swim in because of thick weeds. As we all know we have had recent drownings there. Our island children are not learning how to swim because there is no safe place to learn life lasting skills.
Did you know that the longer we can remain physically active as we age, the longer we will live enjoyable and productive lives?  For those whose body can no longer tolerate high impact exercise, there are few options.
And yes, I am sure you know that water supported rehabilitation and therapy for injuries and chronic pain must be done off island.
A local public swim center will help solve all these problems and more. It will be a place for regular water exercise, for community connection with others, for lessons and recreation, for rehabilitation, a warm and healthy place to be inside during the rain and cold, and for fun!
The facility includes a  4 lane, 25 yard main pool and a warm shallow entry learn-to-swim and therapy pool – both with salt water, a bath house with lockers, a lobby area and a small meeting/party room.  The pool can be built in two phases depending on funding— the first phase would be uncovered and the second enclosed.  The covered pool will have natural daylighting through the KalWall roof as well as a bank of opening doors on one side.  It will be a state of the art, permanent structure that will last many, many years.
As you know the gifted pool land is in the center of the island just off Center Road and will as well be accessible from the school through an off road  trail.
The swim center will be operated by the non-profit, 501c3 Friends of Lopez Island Pool. It will be a public pool open to all, including residents from throughout the county and of course to tourists. There will be many fee options to ensure that the pool will be  affordable and sustainable as well as inclusive of all users.
The FLIP Board has received a generous legacy gift of $510,250 for a maintenance reserve fund.  In order to ensure sustainability of the pool this fund will provide a back up for any unforeseen repairs or emergency demands.
There has been a lot of momentum in 2017. The Board of Directors has engaged local architects, appointed new members to the Board, finished county permits for the land, widened Pool Lane to the required two lanes, partnered with local social services non-profits, held steady presence at the County's Farmer Markets, consulted with fund raising professionals, reached out to state and county legislators, taken legal possession of the land, redesigned the bath house. In-kind donations have been received for many of these tasks.
FLIP is now at a critical stage.  In order to have the pool up and running by the Summer of 2019 we need to have substantial funds in place by fall 2018. Myrtha Pools, an international company, will begin construction of our pools in the winter months.   These state of art pools will then be brought to us via the ferry 9 months after ordered.  These are stainless  steel pools with integrated  plumping, vinyl surface and with soft flooring. These pools require much less maintenance, are easy to install, are salt water tolerant, and beautiful to swim in.  The bath house will be locally constructed with great attention to being user friendly.
So we are asking you in the community to be especially generous this year in helping all this to happen. It is a BIG project and a great opportunity. The Board is pursuing grants, county and state help but the main portion of funds need to come from the community. We have raised to date, 1.2 million dollars towards the estimated $5 million project cost. We have received a $500,000 challenge gift, so your dollars will be matched and doubled in worth.  This is all a stretch for everyone— but the results will be a swim center that will serve us years into the future- bringing  greater health, water safety and community to the people of San Juan County
We know that that FLIP has over 1000 supporters in the community.  Thank you very much.  NOW, let's make a splash and change lives and build a swim center that will be a long-lasting positive change, improving lives for generations. Together we can do it.