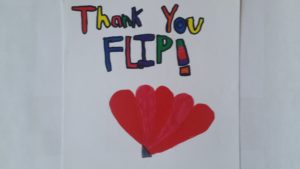 On June 1st & 2nd, FLIP sponsored its 5th annual KIDS SWIM DAYS for Lopez K-5 students at Fidalgo Pool in Anacortes.  110 students enjoyed a two-hour swim with parents, teachers and FLIP volunteers. For many students, this was their one and only opportunity for the year to swim. 
To use the pool without a life jacket, the kids had to swim 25 feet.  48% of the kids were able to do this.  These kids then took turns working with a Certified Water Safety Instructor in small groups, learning and demonstrating the 5 skills that define Water Competency, as outlined by the American Red Cross.                     Water Competency is a minimum measure of a swimmer's ability to stay safe in deep water.
 The 5 skills are:
 1. Jump into water over your head from a standing position on the side of the pool.
 2. Tread water or passive back float for one minute.
 3. Swim in a circle, actively scanning for an exit.
 4. Swim 25 yards without touching side of pool.
 5. Climb out of pool without using a ladder.
The kids did a great job working with the instructor, encouraging their schoolmates and attempting the skills themselves. Ten students were able to demonstrate all five of these skills. FLIP celebrates the progress and enthusiasm of ALL the kids present. 
The overall results, however, were very sobering:  only 9% of 110 students present are considered Water Competent by the Red Cross.  This means that 91% of these students do not possess the skills to stay safe in deep water. Obviously, this is not the fault of the children and their families since there is no swim center yet on Lopez.  A pool would provide multiple opportunities for regular swim lessons and practice throughout the year to improve swimming skills.  These results strongly reinforce the need for a year-round swim center on Lopez Island. Until we can swim locally, FLIP will continue to promote water safety wherever possible.