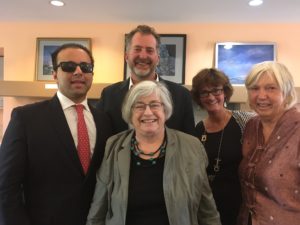 On July 12th FLIP seized the opportunity for an audience with State Senator Kevin Ranker and Lt. Governor Cyrus Habib at the Orcas Island Senior Center.
Asha Leela, one of three FLIP Board members in attendance, asked this question:
"We on Lopez are in the midst of a capital campaign for a year-round swim center for the health and safety of islanders.   It will be the only public pool in the San Juan Islands. This will be an important asset for our rural community.  How do we fit into the economic development that you want and we want for your constituents and the tourists that come?"
In their response, Senator Ranker and Lt. Governor Habib spoke of the public award for FLIP that is in the capital budget.  Both are enthusiastic supporters of the pool and said we should put in additional requests for MORE money.  Sen. Ranker said Orcas people will come swim on Lopez. Both were shocked to learn that this year only 9% of Lopez elementary kids passed the Red Cross water safety test compared with 39% national average.   Asha told Ranker that FLIP had lots of information to share with him.  He said he would like to talk with FLIP in the fall to plan for next year.
Asha also talked with County Councilman Rick Hughes, who submitted a letter in support of the pool to Olympia, with the two other County Council members earlier this year.  The pool will not likely get built without some government funding, therefore, we encourage ALL FLIP supporters to write a letter or make a phone call to your elected officials in support of a community pool in the San Juan Islands! It could make a big difference!